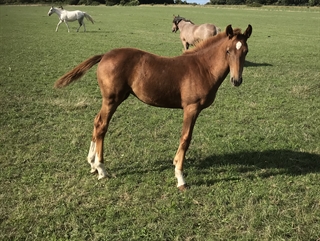 Video footage
I support the hard work and effort put into British horse breeding and young horse production by Stud Ukeuro here in Kent.
Guy Williams, British Show Jumper
Not what you were looking for?
Search horses for sale again
Foxy Lady UK
Anglo European (AES)/Filly/Chestnut/To make 16.2 hh(0)
D/O/B: Wednesday, 04 April 2018
Microchip Number: 981000010059264
Stud Book Number: 826002180882773
Summary
Chestnut filly bred from a home bred mare with great talent by Amorok our home bred stallion already showing potential .
2019 she is a stunning example of the type that Amorok can produce.

2020 Cracking potential real presence.
Bloodline
Mermus R Keur

Hollywood Van Overis

Royal Vinckenburgh

Adams Canasta

Blue Boy

Navarra Van Overis

Baccara trefle

Adams Alme

Qualoubet de Roize

Daybreak